Discover more from The Living Philosophy
Philosophy you can live your life by.
Over 4,000 subscribers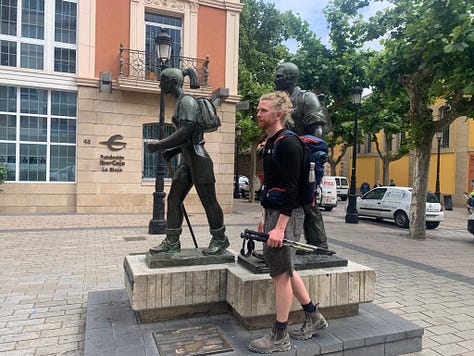 Hello all,
I'm after my first week of Camino and on my first rest day in the city of Logrono after the first 160km over the Pyrenees from France and across the Navarre region and Hemmingway's jewel Pamplona and now into the Rioja region.
Already the Muses have begun speaking to me. Unlike my 40 day Irish hike in 2020 it's not just the poetic Muse that's bubbling up but there's a lot of philosophical musings emerging in a more aphoristic form which I'm enjoying.
They say the Camino consists of three stages: body, mind and spirit. The first section is body where we see if the body can handle the 800 or so kilometres to Santiago. This section is very up and down and hard on the body. The second section is flat and more arid with the buzz of the beginning behind us and the excitement of the varied terrain and so the mind tends to turn inwards and the deep self-work begins. And finally as the pilgrim reaches the end there is the stage of spirit as we rise from the depths of the mind's desert towards the great light at the end of the tunnel that is our destination.
With that in mind I would say that my worries about the body stage have faded away and I am ready now to get into the longer slog. It'll be nice to reach the supposed burial site of my saint namesake - St James (Santiago) and the pagan end of pilgrimage in Finisterre ("the World's End" - where the route terminates at the Atlantic ocean) but I'm more excited about the journey and seeing what emerges along the way.
There'll be more articles emerging while I'm away including a very exciting and long anticipated (for me) instalment on Victor Turner's distinction between Structure and Communitas.
Anyway I just thought I'd send a little update while I have the time and peace of mind. Hope you are all well and looking forward to reconnecting soon,
James